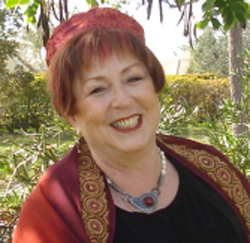 We are thrilled that Rabbi Janie Grackin is bringing her energy and style to our Beth Shira community as we build a new vision for TBS. Rabbi Janie is a Master Storyteller and Family Life Educator. Working with major associations and Synagogues around the world, Rabbi Janie brings the Jewish experience to life through Storytelling, Family Education, and Professional Development Programs. Rabbi Janie's spirit brings the joy of Judaism into your your heart.
Rabbi Janie has traveled the world creating programs for intergenerational populations in synagogues and schools in the United States, Europe and Israel. She has been honored with awards, including the Solomon Schechter Gold Award for Family Education, the Coalition for Advancements in Jewish Education (CAJE) National Award for specialty programming and the Commission for Jewish Education Torah Award for Jewish Education. She has been an invited presenter at Limmud London, an international Jewish learning conference, for several years.
Rabbi Janie is a graduate of the Whizin Institute for Family Education at the University of Judaism in Los Angeles.