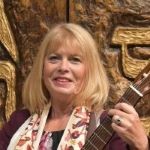 Temple Beth Shira's Spiritual Leader, Rabbi-Cantor Sharon Steinberg seeks to inspire the Jewish community spiritually, motivationally, educationally and musically. Her multi-faceted background includes serving congregations as a cantor and/or rabbi over the past 25 years, concertizing on three continents as an opera singer, serving as a music professor at several universities, teaching a variety of Jewish topics to people of all ages and working with individuals and couples as a spiritual and relationship skills counselor.
Rabbi Steinberg was born in Queens, New York. Her passion for singing became evident at an early age. She majored in music in college earning both Bachelor and Master of Music degrees from Ithaca College and Indiana University respectively. Upon graduation, Rabbi Steinberg accepted a position on the faculty of the University of Maryland, Baltimore County (UMBC) teaching voice and other related music courses. She has also taught at the Community College of Baltimore, the Baltimore School for the Arts, and the University of Wisconsin in Green Bay.
Concurrent with her years as a professor, Rabbi Steinberg pursued an operatic and concert career. Her recital debut at Lincoln Center's Alice Tully Hall was met with critical acclaim. While on a European tour, she sang excerpts from Puccini's "La Boheme" which was recorded for and subsequently broadcast on Italian National Television. Rabbi Steinberg has sung lead roles with many opera companies and orchestras around the world including Bel Canto Opera, Opera Theatre of Northern Virginia, Central City Opera, Des Moines Metro Opera, Southwest Virginia Opera, Roanoke Symphony, and Johns Hopkins Symphony Orchestra.
Rabbi Steinberg has always been very spiritual and began to feel a calling to use her voice to serve as a spiritual inspiration. She pursued her second major career as a cantor beginning in 1992, earning cantorial credentials through the Debbie Friedman School of Sacred Music at Hebrew Union College. Furthering her education, she did course work for a Masters in Pastoral Counseling at Loyola University. She became a certified energy life coach through iPec, the Institute for Professional Excellence in Coaching, became a facilitator and facilitator trainer in Prepare-Enrich, counseling couples in relationship skills, and she trained and subsequently served as a community chaplain in Fairfax County, Virginia.
Prior to her tenure with Temple Beth Shira, Rabbi Steinberg served as cantor for seven years at Temple Shalom in Chevy Chase, one year at Baltimore Hebrew Congregation, and 11 years at Beth El Hebrew Congregation in Alexandria, Virginia. During her years as a cantor, Rabbi Steinberg conducted choirs, founded chamber ensembles and Klezmer bands for which she often did the musical arranging, and she performed often with her cantorial colleagues. While also serving as a Jewish educator and spiritual advisor.
As the years passed Rabbi Steinberg wished to delve more deeply into the rabbinic end of Judaism.  She studied for the rabbinate and was ordained in June of 2013 by Mesifta Adas Wolkowitz Rabbinic Academy of America. She has been serving Temple Beth Shira since 2015, first as its cantor, and then in 2016 as our temple's sole clergy performing both rabbinic and cantorial roles.